Posts for: February, 2019
By Rossi Dental
February 18, 2019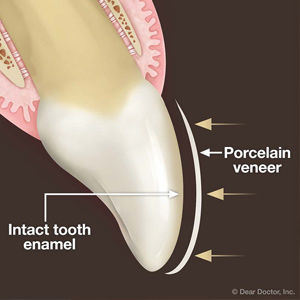 Dental veneers, thin layers of porcelain bonded to chipped, stained or slightly crooked teeth, are an effective and affordable way to transform your smile. Their color, translucence and shape blend so well with the rest of your teeth that it's often difficult to tell them apart.
But traditional veneers have one drawback: although they're less than a millimeter in width, they can still appear bulky on unprepared teeth. To help them look more natural, we often have to remove some of the enamel layer from the tooth surface. Enamel doesn't grow back, so this alteration is permanent and the prepared teeth will require a restoration from then on.
But you may be able to avoid this—or at least keep the alteration to a minimum—with no-prep or minimal-prep veneers, two new exciting choices in cosmetic dentistry. About the width of a contact lens, we can bond these much thinner veneers to teeth with virtually no preparation at all or, in the case of a minimal-prep veneer, needing only an abrasive tool to reshape and remove only a tiny bit of the enamel.
These ultra thin veneers are best for teeth with healthy enamel, and can be placed in as few as two appointments. And besides being less invasive, the procedure is reversible—we can remove them and you can return to your original look without any follow-up restoration. One caveat, though: because of the strong bonding process used, it's not always easy to remove them.
Although their thinness makes it possible to avoid or minimize alterations, there are some dental situations like oversized teeth that may still require extensive tooth preparation. With some poor bites (malocclusions) orthodontic treatment to straighten the teeth may also be needed first.
All in all, though, no-prep or minimal-prep veneers could help you avoid the permanent tooth alteration that usually accompanies their thicker cousins. What's more, you'll have the beautiful, transformed smile that veneers can achieve.
If you would like more information on minimal or no-prep veneers, please contact us or schedule an appointment for a consultation. You can also learn more about this topic by reading the Dear Doctor magazine article "No-Prep Porcelain Veneers."
By Rossi Dental
February 08, 2019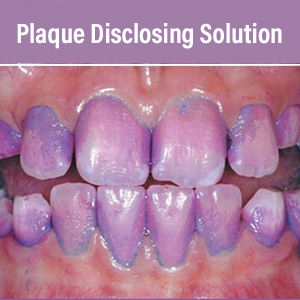 Brushing and flossing your teeth provides a lot of benefits, including a brighter smile and fresher breath. But the primary benefit—and ultimate goal—is removing dental plaque. This biofilm of bacteria and food remnants on tooth and gum surfaces is the number one cause for dental disease.
Brushing and flossing can effectively keep plaque under control. Unfortunately, plaque can be a stubborn foe, hiding in areas easily missed if you're not thorough enough.
So how do you know you're doing a good job brushing and flossing? One quick way is to use your tongue or dental floss to feel for any grittiness, a possible sign of remaining plaque. Ultimately, your dentist or hygienist can give you the best evaluation of your hygiene efforts during your three or six-month checkup.
But there's another way to find out more definitively how well you're removing plaque in between dental visits: a plaque disclosing agent. These over-the-counter products contain a dye solution that stains plaque so it stands out from clean tooth surfaces.
A disclosing agent, which can come in the form of tablets, swabs or a liquid, is easy to use. After brushing and flossing, you apply the agent according to the product's directions. The dye reacts with plaque to stain it a distinct color. You may also find products with two-tone dyes that stain older and newer plaque different colors to better gauge your overall effectiveness.
You then examine your teeth in the bathroom mirror, looking especially for patterns of missed plaque. For example, if you see dyed plaque running along the gum line, you'll know you need to concentrate your hygiene there.
After observing what you can do to improve your future efforts, you can then brush and floss your teeth to remove as much of the dyed plaque as you can. The staining from the dye is temporary and any remaining will fade over a few hours.
Using a disclosing agent regularly could help you improve your overall hygiene technique and reduce your risk of disease. Ask your dentist for recommendations on products.
If you would like more information on improving your oral hygiene, please contact us or schedule an appointment for a consultation. You can also learn more about this topic by reading the Dear Doctor magazine article "Plaque Disclosing Agents."